Each year, I create a painting to use for our annual holiday card (usually an image involving autumn leaves). In this year's card design, I wanted to capture a sense of the dancing path that a leaf takes as it spirals to the ground, having fallen from the tree.
This image straddles the line between printmaking and painting - I used relief printing to print the black zig-zag path and the autumn-colored leaf image on one piece of paper then, on a separate piece of paper, I painted the calligraphic shape seen in the background. I then digitally combined the images on the two pieces of paper into one image.
The relief printing involved three different carved blocks, using acrylic gesso as the ink, as well as some amount of hand-painting directly on the paper.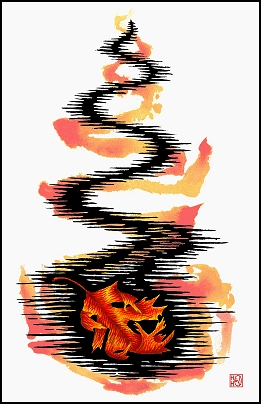 "Leaf-fall Dance"
In many ways this piece represents a return to my roots - both my mother and step-mother were printmakers, and I grew up with many woodcut prints around me, so their texture and style of mark-making has a sense of being "comfort food" for me.